Bradley's HVAC Schools


Reviews & Ratings
Welcome to Bradley's HVAC Schools. 
The go-to-place for New Students and seasoned HVAC technicians.   
Here you will find the brick and mortar HVAC trade schools that are available in your state, as well as the ever-growing HVAC online training programs and on-going education courses that can be taken from the comfort of your home.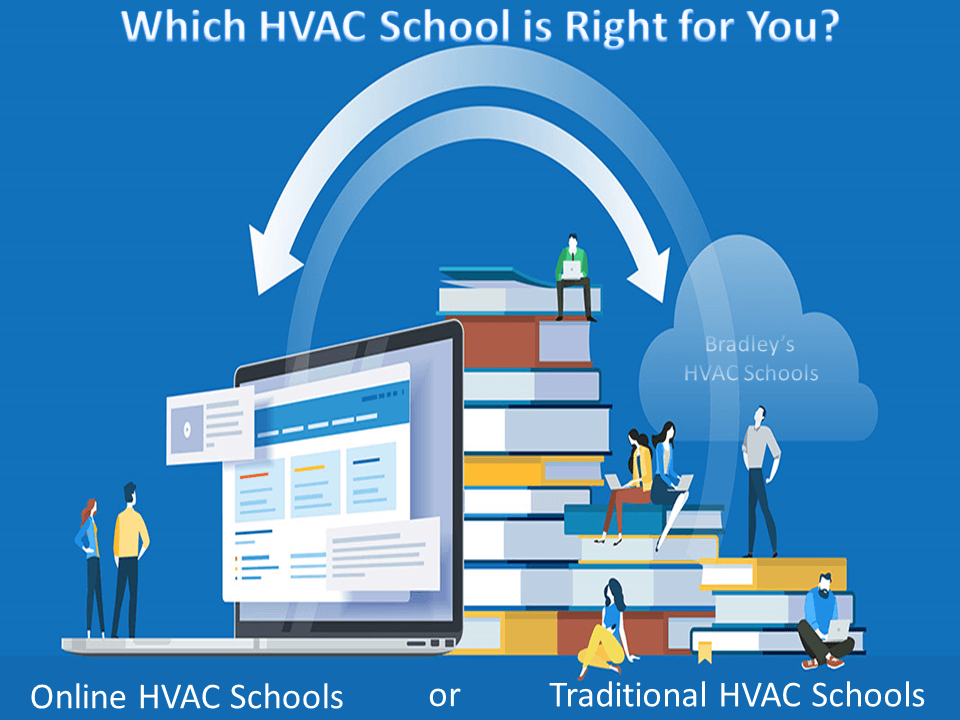 HVAC Schools - Online vs Traditional
Which HVAC School is Right For You?
Online or Traditional?
Our educational system is changing, and the HVAC education industry is no exception. 
The traditional, costly brick and mortar HVAC school is currently the best place to get your education.  However, with the arrival of the Internet, how to videos on YouTube, 3D Interactive Learning and Virtual Reality courses on the rise.......That's all going to change!
As old, outdated and over-priced HVAC programs fall from existence, and new ones take their place, Bradley's HVAC Schools is here to keep you informed on the latest and greatest.  (This is an on-going process) If you have an HVAC program that you want included here, feel free to Add Your School located in the Keep in Touch tab at top of page.

Some basic information about the different HVAC schools available have been documented on this website for your convenience.  This includes informational videos, pricing, a link to their HVAC program and reviews/ratings if any were found. 
Making the decision to go to school requires a large commitment on your part, you'll be investing (your time) and (your money) in exchange for their HVAC training program. 
Therefore, we recommend taking some time to educate yourself about each school so that you can make an informed decision.
Most HVAC Schools provide general training in (Heating, ventilation, and air conditioning) which allows graduates to get hired by HVAC companies.  
This training usually lasts from around 6 months to 2 years in a technical/vocational school.  Less schooling is needed when taking HVAC training online.  Usually at the very end of the training, you will take a test to get your HVAC certification.

Further training (from the HVAC companies themselves) is usually needed to increase a technicians knowledge of real world applications.
Bradley's HVAC Schools


Starting a Career in the HVAC Industry
Can be Very Rewarding!

According to the "Bureau of Labor Statistics", air conditioning, heating, and refrigeration technicians and installers held about 292,000 jobs in 2014.  Of these jobs, about 63 percent worked in the contractors industry and 1 in 10 were self-employed.   HVAC jobs are projected to grow 14 percent from 2014 to 2024, much faster than the average for all occupations.  
Revised:  According to the "Bureau of Labor Statistics", air conditioning, heating, and refrigeration technicians and installers held about 332,900 jobs in 2016.  Employment of heating, air conditioning, and refrigeration mechanics and installers is projected to grow 15 percent from 2016 to 2026
The median annual wage for heating, air conditioning, and refrigeration mechanics and installers was $47,080 in May 2017. The median wage is the wage at which half the workers in an occupation earned more than that amount and half earned less. The lowest 10 percent earned less than $29,120, and the highest 10 percent earned more than $75,330.

During the busy seasons of summer and winter, technicians are usually making repairs.  They are also busy replacing HVAC equipment that is at the end of its useful life of around ten to fifteen years.
During the slow seasons of spring and fall, HVAC technicians are generally doing maintenance on ac units do to the yearly maintenance contracts that they sell to their employers customers.  This provides for year round work.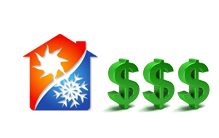 In addition, many contractors pay their employees an hourly wage plus commission for upgrading thermostats, cleaning coils, replacing motors, and selling new units to their customers. 
In fact, some companies pay upwards of $200 dollars in commission for a motor replacement and $500 dollars in commission for selling the customer a new air conditioning unit. 
Most technicians that work for HVAC contractors go on approximately 4 to 6 calls per day.  Having said that, you can see the possibility of a technician walking away with a lot of extra money in commissions within a days work (if they are working for the right company and are properly trained).

In today's job market it is absolutely necessary to get training if you want to enter the HVAC field. Rarely will HVAC companies even consider you for a position without some form of schooling or prior experience and they prefer the latter because recent HVAC graduates will still have to go through a learning curve once they actually start working on ac units.  Like they say.............."school is very different from real world applications".
---
Although employers prefer technicians with prior experience over newly schooled, many take what they can get (in the busy season) because of the constant shortages of technicians.  This shortage can provide for easy job placement.

The HVAC industry is a lucrative one considering the time needed for schooling compared with the amount of money you can make, with technicians pulling in an average of around $45,000 per year and some earning six figure incomes. 
Bradley's HVAC Schools




Want to Break the Bonds of Slavery?




Then Start Your Own HVAC Business!!!



You may be entering this field because you want to start your own HVAC business where their is no cap on your earnings.  When technicians have the potential to earn over a thousand dollars in one day, imagine what the business owner is taking in.
To put this in perspective, the average profit on the installation of a new air conditioning unit comes in at around $2500 dollars and up and can be performed easily in under 4 hours.  Most repairs take under an hour to complete and are fetching average profits of $200 to $400 dollars and up.  When you or your technician goes on 4 to 6 calls in a day.......well, you do the math!

Thanks for visiting HVAC schools.org.  Their are many HVAC Schools on our website, my hope is that you will find the right one for you and wish you success in your new and financially rewarding career or future business.
---
"Learning is experience. Everything else is just information."― Albert Einstein
Copyright © 2019 Bradley's hvac-schools.org
---