Bradley's 

HVAC Training Schools

Do Your Due Diligence
The best HVAC training schools allow you the opportunity to fast-track into a well paying career by teaching you the fundamental skills that are necessary to entering the HVAC industry. 
However, you must do your due diligence before entering into an agreement or contract with an HVAC training school.......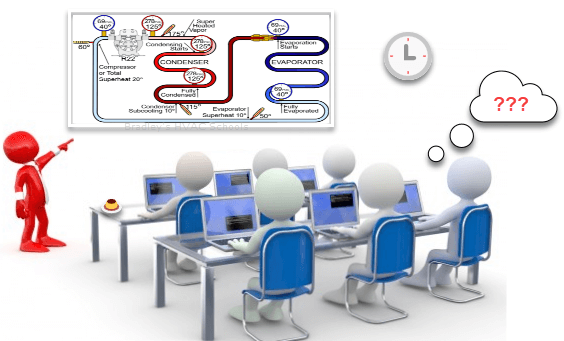 HVAC Schools in Your State



Do Some Research
Before Wasting Your Time and Money
You should take some reasonable steps in researching the HVAC field before potentially wasting your time and money on a career path that may not be for you. 
The HVAC for Beginners page is an excellent starting point to help educate you about the HVAC Industry, show you the existing problems with retention and graduation rates, and gives you a tool that helps you determine if entering the HVAC field is right for you.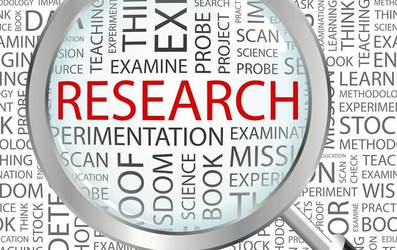 In addition, there are many different HVAC training schools to choose from on this site, and it's important that you ask yourself a few questions before jumping into a program:
Should you choose a brick and mortar trade school/community college, an online program, or seek an apprenticeship?

What is the schools method of training and will it be effective for you?

How much time will you have to put in to get certified?




What's the total cost of the program? 

Have you taken the time to read the schools Good and Bad reviews?
---
Each of the HVAC Training Schools on this website have a picture or video that represents their school or HVAC program as well as any other pertinent information that was found for your convenience. 
One thing to keep in mind before signing up with one of these schools is the quality and openness of their content in educating you about their particular program....   After all, if the school isn't putting much effort in educating you about their HVAC training program through verbal and video content, and being transparent about their prices upfront, then it may be a very good indication about the quality of education you would receive from their actual program and the integrity of the school.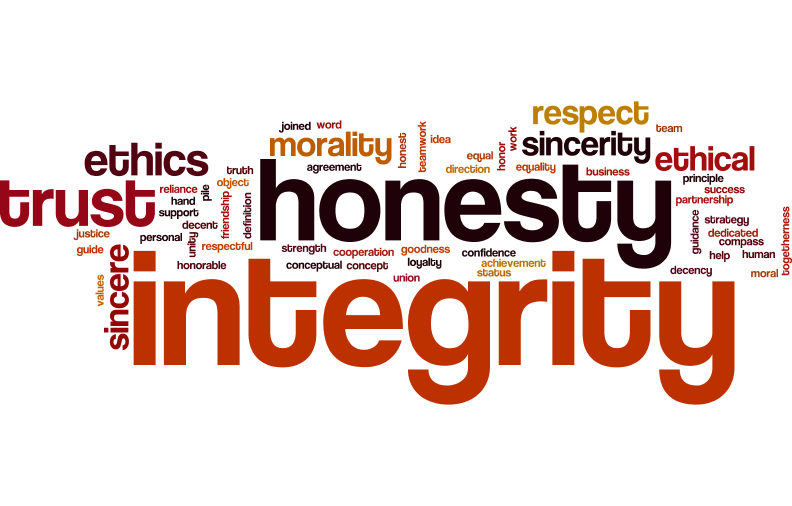 Any educational institution that lacks educating you about their HVAC program is bad enough (all by itself), but when they also choose to be tight-lipped by not disclosing information up-front, they are being silent and secretive and I wouldn't give them a second look. 
Most of these sneaky types of colleges also apply bait-and-switch tactics by giving you their lowest price to get you in the door, and then high pressure sell you to upgrade your schooling.  They also apply a little-known practice that threatens graduation rates, and raises debt levels for students through their financial aid programs...
Reuters reports - FEBRUARY 23, 2015 " Some colleges make their most generous offers to high school seniors as a lure to attend, a practice known as "front-loading."
But those returning for their sophomore and subsequent years at a university may get thousands of dollars less in grants and scholarships than they did as freshmen. Often, the free money is replaced by student loans.
About half of all colleges front-load their grants, according to financial aid expert Mark Kantrowitz, who analyzed data from the National Center for Education Statistic's Integrated Postsecondary Education Data System."
You've been for-warned about some of the problems or dangers you might find out their when looking for a school.  Better to choose a school that's policy is to be up-front, straightforward and honest.
Which HVAC School is Right for You?
Most HVAC training schools that you'll find are in a traditional classroom setting, but an increasing popular option is to take your HVAC training online or to seek an apprenticeship program.

Which should you choose?
What are the pro's and con's of attending a traditional HVAC training school versus taking a course online, or seeking apprenticeship?
Traditional (Brick & Mortar) HVAC Training Schools
Pros and Cons
Pros:  Learning the Fundamentals Through Theory and Lecture Time
There's a lot of time spent on theory and lecture.  This gives you the fundamental building blocks of knowledge needed in order for you to become a better (all around) HVAC professional.  This instruction will help you many times over the guy that never went to school.
Pros:  Hands on Training (in classroom)

Most traditional HVAC training schools will offer some form of hands on training (in a classroom setting) to go along with the theory and lecture portions of their instruction. This hands on training will help you apply your new knowledge in an educational environment.  Look for schools that provide lots of hands on training on real equipment (like the picture above).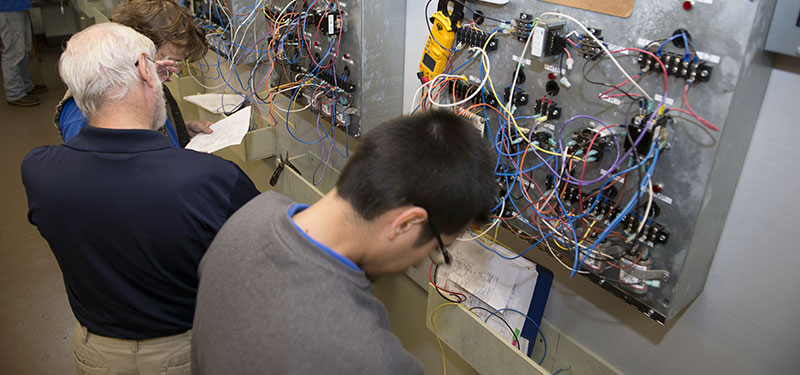 Cons:  Hands on Training (in classroom)
The majority opinion from recent HVAC graduates as well as the HVAC companies that hire them, is that the hands on training that these traditional HVAC schools provide, could use some form of improvement.  Although they may teach you some good fundamentals, (as in the picture above) it's doesn't compare to the hands on training that could be provided on real equipment.   
Most of these technicians say that they didn't really obtain the skill set needed until they got a real job and started applying their education out in the real world.
The other problem is that many of these vocational/trade schools are cramming to much information into a 6 month or 1 year coarse by attempting to teach the student on too many types of equipment including but not limited to residential and commercial air conditioners, heat pumps, swamp coolers, refrigerators, freezers, auto air conditioning, mini splits, window units, furnaces, electric heat, chilled water systems, and geothermal.  Just to name a few.  

It might be better if these schools were to teach you the basic fundamentals in the HVAC field, and then allow you extra time to train on just one to three types of equipment that you're really interested in pursuing.  This would increase your skill set for that equipment during the time of your training, making you more valuable to your future employer. 
Upon graduation and entering the workforce, you would normally start working on only one specific type of equipment anyways, like residential air conditioners and heaters for instance.  So you might as well be good at it from the get go.  Then later, if you chose to, you could expand your skill set on other types of equipment through on the job training and on-going education programs.
Another all to common issue for many traditional HVAC training schools is their inability or unwillingness to simulate real life problems with real equipment in a classroom setting.  This lack of education doesn't properly prepare the student for the troubleshooting skills that will be needed out in the field.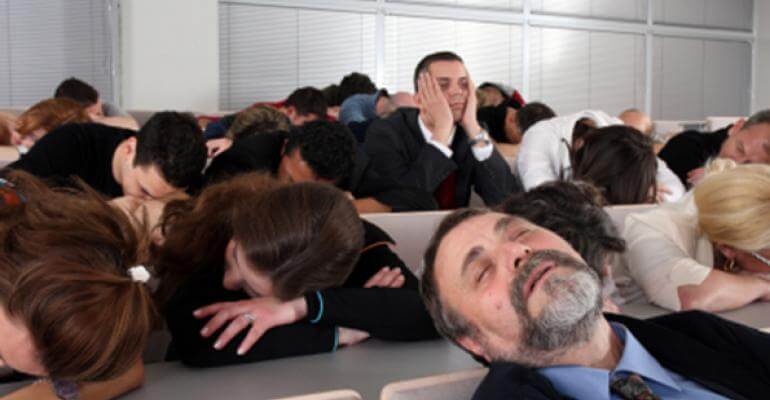 Cons:  Lecture Time May Seem to be a Waste of Time

In order for schools to be accredited, they must, at a minimum, offer at least one program that is 300 clock hours or longer in length.  To fill up this time requirement, schools may add extra educational material that could seem unnecessary to some and possibly fascinating to others.  For instance, you might learn that "the definition of cold is the relative absence of heat" and that heat is energy and cannot be destroyed.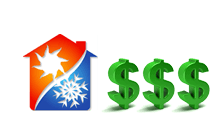 Cons:  Traditional HVAC Schools are Generally More Expensive
So to sum it up, most brick and mortar HVAC training schools excel in teaching the fundamentals and theory to the point that it may seem like unnecessary fluff, and the lion's share will claim "hands on training" cause they will give you some, but the reality is that you may get very little hands on training on too many types of equipment, and in all likeliness, (as with other studies) you won't really learn the trade or the specific skill set for any particular equipment until you get a job and can apply your new knowledge through real world applications.
So if hands on training is really important to you, I would suggest asking the school how much (actual time) is spent troubleshooting/servicing the equipment during their program.  And more specifically you could ask them how much time is allotted to the type of equipment your interested in working on, and if they use real life troubleshooting simulation on real working equipment. The answer to these questions will allow you to determine whether the extra cost associated with a traditional school is worth it or not.
---
Pros:  Convenience and Flexibility
Online HVAC courses allow you to plan your study time when it's convenient for you so that you can balance your work and other family commitments.
Pros:  Lower Costs

Online programs can be a much more affordable option than traditional HVAC schools.  For instance, the cost for attending a traditional school averages somewhere between $4,000 and $24,000 dollars, where an online school averages around a $1,000 bucks.  That's a HUGE difference!
Pros:  No Time or Travel Expenses
The amount of time and travel expenses you'll save by taking your courses online could be substantial.
Pros:  Greater Ability to Concentrate
Many students report that online courses allow them to concentrate better because they are not distracted by other students and classroom activity.
Cons:  No Hands on Training
Hands on training is very helpful in the learning process as it helps you apply what you've learned, and their is no substitute for hands on training.  With an online training program, the only hands on training you will receive will be your hand on a mouse and a keyboard:)
Cons:  Not Vary Many Online Schools to Choose From
Currently, their aren't very many online schools to choose from.  However, this will change as more programs are developed that are on par with, and perhaps exceed traditional teaching methods.
Cons:  Most Online Schools are Not Accredited

If you need to graduate from an accredited school in your area in order to land a job, then by all means find an online school that's accredited or seek trade school/apprentice alternatives. 
Also, many HVAC employers don't care if you went to a school that was accredited.  What they care about is proof of knowledge, and as they say..."The Proof is in the Pudding". 
So if your determined to save some money by taking an online course, I would advise making a few phone calls to your local HVAC companies asking them if you would be employable with them prior to signing up with an online program.
Learn more about HVAC Online Training here.
---
HVAC Training Schools


Apprenticeship Programs


Pros

and Cons

Pros:  Real Hands on Training and Classroom Instruction  
As an HVAC Apprentice, you may acquire real life hands on skills to installing, troubleshooting, and repairing HVAC equipment.  Many apprenticeship programs are composed of this "on the job training" along with "classroom instruction". 
The on-the-job training is usually provided by a sponsor (employer) who exposes the apprentice to practical applications in all areas of a chosen trade. The classroom-related instruction is an organized form of instruction, designed to provide the apprentice with knowledge of the theoretical and technical aspects of his or her trade. 
Pros:  Free Schooling 
An apprenticeship program's "classroom instruction" is sometimes paid for by the employer with student to reimburse the employer through contractual agreement to continue employment with them for a given amount of time.

Cons:  An apprenticeship program may be difficult to find in your area.
Cons:  Program may not offer any outside classroom instruction.
Cons:  You may have to sign a contractual agreement binding you to them for a given amount of time.
Learn more about becoming an HVAC Apprentice here.
---



Summary



According to the "Bureau of Labor Statistics",  employment of heating, air conditioning, and refrigeration mechanics and installers is projected to grow 15 percent from 2016 to 2026, much faster than the average for all occupations.  Commercial and residential building construction is expected to drive employment growth. The growing number of sophisticated climate-control systems is also expected to increase demand for qualified HVACR technicians.

While their are pros and cons in attending traditional HVAC training schools as are their for online and apprenticeship programs, it's important that you do your own research to determine which type of school best fits your needs and desires.
Once you receive your HVAC Certification, it will ultimately land you a job in the industry and perhaps lead you to starting your very own HVAC business.
Happy Hunting:)
HVAC Schools › HVAC Training

---
"Learning is experience. Everything else is just information."― Albert Einstein
Copyright © 2019 Bradley's hvac-schools.org
---