HVAC Apprentice Jobs Alabama
Below you will find (3) three (entry level) HVAC Apprentice Jobs in Alabama that were sourced as *noted.
This is an ongoing list of company's that offer entry level jobs in the HVAC industry from time to time.

These companies are growing their business at a fairly rapid rate and sometimes require little to NO HVAC experience.  Of course, experience is always preferred.
Having said that, their qualifications for employment may change in the future and "best practice" for getting hired is to be pro-active by learning as much as you can about the trade via HVAC online training classes or through brick & mortar HVAC Training Schools.
If your a complete newbie to the HVAC industry, HVAC for Beginners has information that will help you determine if this is the right field for you.
It is recommended that you explore other apprenticeship programs and learn more about becoming an HVAC Apprentice, before taking this earn-while-you-learn approach.
HVAC Apprentice Jobs Alabama
---
Ingersoll Rand
Huntsville, AL
Website:  https://company.ingersollrand.com/
HVAC Technician Apprentice
Qualifications:

A High School Diploma or equivalent and

0-2 years of experience in HVAC is required.

Associate's degree (A. A.) or equivalent from a two-year college or technical school with a certificate in Heating, Ventilation, and Air Conditioning is preferred.

Operating knowledge of Microsoft office software and working proficiency with hand held computer (i.e. Smartphone, iPad).

Must possess a valid driver's license for a minimum of 12 months, with no major or frequent traffic violations.

EPA Certification Preferred

This position is highly physical and requires regular use of hands, fingers, walking, stooping, and kneeling. It requires employees to regularly lift and or move up to 10 lbs, frequently lift and or move up to 50 lbs and occasionally lift and or move more than 50 lbs.
---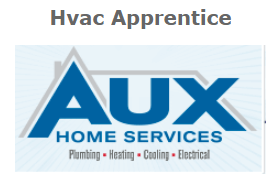 Aux Home Services (Aux Mechanical)

Bessemer, AL
Website:  https://auxhomeservices.com/

Hvac Apprentice

Qualifications:
Knowledge of applicable installation and venting codes

.

Clean, safe driving record.

Highly organized with exceptional follow-through abilities.

Strong verbal and written communications.

Passionate about Aux Home Services and loves the brand.

High integrity with advanced social skills and ability to make solid connections.

Strong desires to be a better installer tomorrow than you are today.

Outgoing personality that blends well with a fast-paced, goal-driven environment.

Competitive individual contributor who also loves to win as a team.

Highly motivated, self-starter

who s flexible and has a great attitude on life.
---
HVAC Apprentice Jobs Alabama Cont'd

Mid-South Air Conditioning, Inc.
Starkville, MS
Website:  https://midsouthac.com/
Qualifications:
Valid driver's license and insurable driving record  

Must pass background screens & drug test 

HVAC industry experience is preferred 

Completion of HVAC school is preferred 

EPA certification is a plus 

Be able to carry 100 pounds 
HVAC Schools › Apprentice Jobs Alabama

---
"Learning is experience. Everything else is just information."― Albert Einstein
Copyright © 2019 Bradley's hvac-schools.org
---