HVAC Apprentice Jobs Arizona
(Entry Level)
Below you will find (7) seven (entry level) HVAC Apprentice Jobs in Arizona that were sourced as *noted.
This is an ongoing list of company's that offer entry level jobs in the HVAC industry from time to time.

These companies are growing their business at a fairly rapid rate and sometimes require little to NO HVAC experience.  Of course, experience is always preferred.
Having said that, their qualifications for employment may change in the future and "best practice" for getting hired is to be pro-active by learning as much as you can about the trade via HVAC online training classes or through brick & mortar HVAC Training Schools.
If your a complete newbie to the HVAC industry, HVAC for Beginners has information that will help you determine if this is the right field for you.
It is recommended that you explore other apprenticeship programs and learn more about becoming an HVAC Apprentice, before taking this earn-while-you-learn approach.

HVAC Apprentice Jobs Arizona
---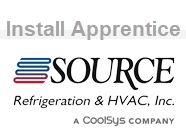 Source Refrigeration & HVAC
Arizona
*via glassdoor
Website:  https://www.sourcerefrigeration.com/
Install Apprentice
Qualifications:
Education or experience equivalent to a High school diploma, GED, or completion from trade program or technical school.

1+ years of experience

in the construction, refrigeration, HVAC, or other related industry/trade

preferred.

Ability to operate a scissor lift or forklift preferred.

Knowledge of job site safety, ability to perform work in accordance with safe work practices and rules.

Ability to use basic power and hand tools including drills, fuel gas tools, electrical meters, measurement tools, etc.

Ability to be punctual and dependable.

Ability to work in a variety of working conditions, including scaling ladders to various heights, outdoors in hot/cold temperatures, in noisy environments, etc.

Ability to perform basic mathematical calculations including fractional addition/subtraction, multiplication, division, and measurements.

Ability to read, write and communicate timely, clearly and concisely.

Ability to work constructively in a team environment and follow instructions from senior technician.

Ability to understand and follow all company policies and procedures and all applicable State and Federal laws.

Good driving record.
HVAC Apprentice Jobs Arizona
---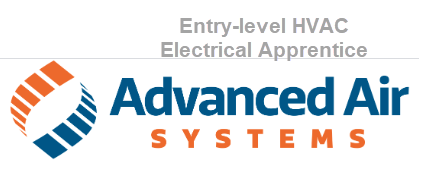 Advanced Air Systems
Thatcher, Arizona
*via glassdoor
Website:  https://www.advancedair.com/
Entry-level HVAC / Electrical Apprentice

Qualifications:
A desire to learn a skilled trade

Valid driver's license and a clean driving record

Ability to pass a background check and drug testing

Ability to lift up to 80 lbs and work outside and from heights or small crawl spaces

No experience necessary!
HVAC Apprentice Jobs Arizona
---
Ambient Edge
Kingman, AZ
*via LinkedIn
Website:  https://www.ambientedge.com/
Apprentice HVAC Installer

Qualifications:
Good mechanical abilities

Background in construction is helpful

Able to lift 50 pounds and use ladders.

Use basic hand tools safely.

Willingness to advance utilizing In-house and NATE Certification training classes.

Ability to provide extremely satisfied customer service.
HVAC Apprentice Jobs Arizona
---
ACS - Air Conditioning Services

Tucson, AZ
*via ziprecruiter

Website:  https://acshvac.com/
Entry Level HVAC Installer

Qualifications:

High school Diploma or equivalent

Valid driver's license.

Prior expeience in HVAC preferred

Construction or trade background required

Insurable by Company insurance carrier.

Eager to invest time in training seminars and classes.

Willing to do follow direction and complete jobs as needed

Basic Safety knowledge of tools and surroundings.

Demonstrate mechanical aptitude

Unloading/Stocking supplies and Equipment.

Unloading/Loading truck.

Be able to carry 100 pounds.

Possesses both written and verbal communication skills.

Demonstrate willingness and commitment to developing customer service skills

Certificate of Completion from a HVAC Technical School preferred

Ability to pass a drug screen and background check
HVAC Apprentice Jobs Arizona
---
TDIndustries, Ltd.

Phoenix, AZ
*via ziprecruiter

Website:  https://www.tdindustries.com/
Sheet Metal Apprentice I
Qualifications:
High School Diploma or GED. Craft training is preferred

.

Must be a team player.

Ability to operate hand tools, power tools, gauges and measuring equipment.

Must have basic math skills.
HVAC Apprentice Jobs Arizona
---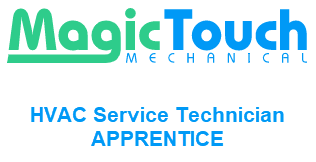 Magic Touch Mechanical 
Arizona
*via their website career page

Website:  https://www.airconditioningarizona.com/
HVAC Service Technician Apprentice

Qualifications:

HVAC trade school graduate or military program training graduate (soon to graduate may also be considered)

Possess your EPA Certification

Possess HVAC tools

Currently reside within 25 miles of Mesa, AZ

Have reliable transportation to and from Magic Touch in Mesa, AZ everyday

Possess a current and unrestricted Arizona driver's license

Be available to work full time (day shift) including some weekends

Able to carry and climb ladders

Able to work on roofs and not have a fear of heights

Able to work in confined spaces (attics)

Able to work in extreme summer temperatures

Extra consideration will be given to candidates with previous experience in similar trades

Prior HVAC apprenticeship completion or experience not required but a bonus
HVAC Apprentice Jobs Arizona
---
Alaskan Air Conditioning
Tempe, AZ 
*via jobzhq
Website:  https://www.alaskanac.com/
HVAC Apprentice Technician - Phoenix

Qualifications:
Start at $24K.

Make as much as $80K+!

We will teach you to win.

Even better… we will pay you to teach you to win.

You don't have to clump together part-time jobs and work crazy hours to get by.

You do have to be willing to learn.

I think you have what it takes.

At Alaskan AC, we are looking for diamonds in the rough.

Someone like you chomping to learn something and make good money at it.

We want you for our next Apprentice Technician.

"Apprentice" means you'll be under the guidance of an experienced pro.

One of our top techs, who knows the ropes and is making upwards of $80K+.

You'll pay attention.

Follow instructions.

Pass tests.

Repeat.

When you apply for this job, tell us the answer to 7 X 3.




It's important that you do that, not because we care if you know math…but because we must be absolutely sure you know how to be thorough and follow directions.  

If you can't follow that simple step, don't expect to get a call from us.

Our training program has been carefully created to take a person like you with limited or no knowledge of HVAC and advance you to a journeyman, a technical adviser, and eventually into our management program.
HVAC Schools › Apprentice Jobs Arizona

---
"Learning is experience. Everything else is just information."― Albert Einstein
Copyright © 2019 Bradley's hvac-schools.org
---