HVAC Apprentice Jobs Arkansas
(Entry Level)
Below you will find (3) three (entry level) HVAC Apprentice Jobs in Arkansas that were sourced as *noted.
This is an ongoing list of company's that offer entry level jobs in the HVAC industry from time to time.

These companies are growing their business at a fairly rapid rate and sometimes require little to NO HVAC experience.  Of course, experience is always preferred.
Having said that, their qualifications for employment may change in the future and "best practice" for getting hired is to be pro-active by learning as much as you can about the trade via HVAC online training classes or through brick & mortar HVAC Training Schools.
If your a complete newbie to the HVAC industry, HVAC for Beginners has information that will help you determine if this is the right field for you.
It is recommended that you explore other apprenticeship programs and learn more about becoming an HVAC Apprentice, before taking this earn-while-you-learn approach.

HVAC Apprentice Jobs Arkansas
---

Lennox
Little Rock, AR
*Via CareerBuilder
Website:  https://www.lennoxinternational.com/
HVAC Apprentice Technician
Qualifications:
This is an entry level opportunity for an individual looking to jump start their career.

Assist

with on-site preventative maintenance, routine repair and calibration after installation.

Uses technical abilities to maintain systems.

Works in a team-based environment to share information and workload while ensuring customer satisfaction.

Must work in a safe manner on a daily basis and ensure that all safety measures are taken at all times.

Performs other duties as assigned.

Flexibility to work overtime, on-call and weekends required.

High School diploma or GED equivalent

HVAC Trade school graduate strongly preferred

achieving 3.5 GPA and excellent attendance
1+ years in mechanical support role,

some hands on HVAC experience preferred

EPA Certification: Type I and Type II or Universal Preferred

NATE certification a plus

Valid Driver's License and acceptable driving record

Ability to climb ladders

Moderate lifting up to 90lbs

Complete pre-employment drug test and background check process

Technical aptitude to perform maintenance, service, and troubleshoot equipment

Excellent Customer Service Skills

Good Electrical and Mechanical Diagnostic Skills

Ability to complete repairs and required paperwork

Ability to work independently and self-schedule

Self-motivated to complete assigned tasks within time constraints

Driven to succeed and able to work with minimum supervision
HVAC Apprentice Jobs Arkansas
---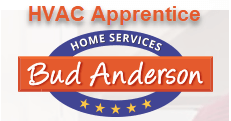 Bud Anderson Heating & Cooling
Arkansas
*via Indeed.com
Website:  https://www.ba-hvac.com/
HVAC Apprentice

Qualifications:
Residential HVAC Technicians must have good mechanical aptitude.

Ability to follow and understand technical instructions.

Universal EPA License preferred.

Possession of a valid Driver's License at time of appointment.

Ability to recognize and locate conditions which require diagnosis, repair, and maintenance work; keep records.

Excellent customer communication skills in order to foster business relationships and to explain repairs and replacement options to customers.

Able to work independently.

Able to work full time schedule and rotating "on-call" nights, weekends, holidays.

Ability to pass drug and background screen.

Must provide own hand tools.

Must have good balance for working at various heights.

Must be able to work in all extremes of temperature and weather.

Must be able to participate in long periods of highly strenuous physical activity associated with the HVAC industry.

Must be able to lift 100 pounds or more.
HVAC Apprentice Jobs Arkansas
---

Nabholz Construction Serv
Rogers, AR
*via LinkedIn 
Website:  https://www.nabholz.com/
Qualifications:
Motivated to become a HVAC Tech

Strong interpersonal and communication skills.

Ability to foster a cooperative work environment.

Ability to work neatly and cleanly.

Work is performed indoors and outdoors; sometimes required to climb onto rooftops for installation/repair.

Considerable physical effort of hands and arms required; the employee must occasionally lift and/or move objects with considerable weight.

Work in overhead structures and around and beneath machinery.

May be required to return to work when major problems are encountered on off-shifts or weekends.
HVAC Schools › Apprentice Jobs Arkansas

---
"Learning is experience. Everything else is just information."― Albert Einstein
Copyright © 2019 Bradley's hvac-schools.org
---