HVAC Apprentice Jobs Colorado
(Entry Level)
Below you will find (7) seven (entry level) HVAC Apprentice Jobs in Colorado that were sourced as *noted.
This is an ongoing list of company's that offer entry level jobs in the HVAC industry from time to time.

These companies are growing their business at a fairly rapid rate and sometimes require little to NO HVAC experience.  Of course, experience is always preferred.
Having said that, their qualifications for employment may change in the future and "best practice" for getting hired is to be pro-active by learning as much as you can about the trade via HVAC online training classes or through brick & mortar HVAC Training Schools.
If your a complete newbie to the HVAC industry, HVAC for Beginners has information that will help you determine if this is the right field for you.
It is recommended that you explore other apprenticeship programs and learn more about becoming an HVAC Apprentice, before taking this earn-while-you-learn approach.
HVAC Apprentice Jobs Colorado
---
Bob Staley's Plumbing-Heating-Air
Fort Morgan, CO

*via LinkedIn

Website:  http://www.staleybsp.com/

Plumbing and HVAC Apprentice

Now taking applications for an HVAC & Plumbing Apprentice to join our family owned and operated company. Must have a valid driver license no exceptions! Wages depend on experience. 

For an application call 970-867-5262
Qualifications:
1 year (Preferred)
HVAC Apprentice Jobs Colorado
---
Doctor Fix It Plumbing, Heating & Electric
Denver, CO

*via indeed

Website:  https://www.calldoctorfixit.com/
HVAC Installer Apprentice
Assist in Installing HVAC related equipment and provide education to clients on functionality. You will learn, train, and assist on every aspect of an HVAC install.
Qualifications:
Ability to effectively and professionally communicate with clients.

Ability to lift up to 65lbs.

Ability to take and follow directions

Ability to retain and utilize the education and training you will be receiving

Dependability and a great work ethic are a requirement in order to be successful in this position

Must have a valid driver's license upon employment and maintain throughout employment. Post-offer of employment, you must have and maintain an acceptable driving record. Employment is contingent upon successful passing of the background check and drug screen.

You Will Receive World Class Training.

As an apprentice with Doctor Fix It you will be put on a fast track to become a lead.

Doctor Fix It will reimburse tuition

related specifically to the position you are apprenticing for.

HVAC installation: 1 year (Preferred)

High school or equivalent (Preferred)
HVAC Apprentice Jobs Colorado
---
Johnson Controls
Littleton, CO
*via linkedIn
Website:  https://www.johnsoncontrols.com/
HVAC Project Mechanic Apprentice (Union)
What you will do:
Are you looking to increase your HVAC knowledge and learn firsthand from some of the top HVAC teams? Our team will give you this opportunity, in addition we provide factory certification through our Service Technical Academy (STA) with milestone recognition and monetary rewards and advancement, increased incentive opportunity for executed pull-through work, top of the line technology, equipment and uniforms and a #1 focus on employee safety. We will equip you with tools and a vehicle to perform your job at the highest standard.
Qualifications:
High School Diploma or equivalent

Familiarity with HVAC equipment

EPA Refrigeration certification a plus

The ability to perform general building maintenance

Self starter with ability to work independently

This position requires a current driver's license

Willingness to supplement on-the-job training with training provided through the apprenticeship program

Good verbal and written communication skills
HVAC Apprentice Jobs Colorado
---

PlumbLine Services
Denver, CO

*via LinkedIn
Website:  https://plumblineservices.com/

HVAC Installation - Apprentice
Do you want to turn the HEAT on in your career?
Plumbline Services is looking for HVAC Installation Apprentices for our HVAC Install Team!

At Plumbline Services, we do things a bit differently. There's no corporate nonsense, and no old-fashioned hierarchy. Instead, we work in teams and as ONE team, and our goal is meeting the needs of our customers. Think of our teams like start-ups within a start-up that learn from each other.

Here's what you will be doing:

Assist lead installer in all HVAC system installations

Assist in properly staging jobs

Know how to establish customer rapport to ensure highest levels of satisfaction

Demonstrate technical competency
What you need to be qualified:
No experience required we will teach you the Plumbline way

HVAC experience helpful, but not required

Pass Background/Drug Testing

Clean, safe driving record

We want someone who takes pride in their work

Strong verbal and written communication

Clean-cut, professionals who show the same pride in their appearance as they do in their work and simply needs a place to refine his/her craft is exactly the person that we're looking for
HVAC Apprentice Jobs Colorado
---
Premier Heating and Air
Littleton, CO
*via LinkedIn
Website:  https://www.premieraircolorado.com/

Service tech Apprentice
Job requirements:
HVAC service: must be able to do general maintenance on 80% and 90% efficient furnaces.

(training is provided, no experience necessary)

A/C and Heat pumps: must be able to maintain A/C's and Heat Pumps.(training is provided)

Water Heaters: Rinnai experience a plus, must be able to service basic water heaters, but high efficient tanked and tank less water heaters is a plus.(training is provided)

Must be able to work on and troubleshoot all systems stated above (sales experience is a big plus, but we provide a lot of training).

Positive attitude and willingness to learn

Self Motivated

must have reliable transportation
Qualifications:
0-1 year experience in the field or customer service and sales experience in a different application.

Insurable driving record

No felonies on Background Check
HVAC Apprentice Jobs Colorado
---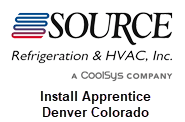 Source Refrigeration
Denver, CO
*via glassdoor
Website:  https://www.sourcerefrigeration.com/
Install Apprentice
Job Summary:
This position provides entry level refrigeration, electrician and/or fixtures construction experience in performing installation and remodeling of refrigeration systems.

Essential Duties and Responsibilities:

Provides support on construction job by safety building refrigeration racks in the warehouse in accordance with instruction to ensure a timely and quality completion of projects.

Provides support to the electrician and fitting journeyman or foreman as required to safely and efficiently complete the projects.

Provides assistance to the journeyman and foreman as needed on the job.

Perform other duties and projects as assigned.
Essential Knowledge, Skills, Abilities, and Competencies:
Skill in mechanical knowledge of hand tool operation

Ability to work with minimal supervision

Good mechanical skills in the use of hand and power tools

Knowledge of job site safety, ability to oversee work activities to ensure safe work practices and safety rule compliance

Ability and strong desire to learn

Ability to take direction
Education, Experience and/or Licenses:
High school diploma or GED equivalent work experience and trade or technical school classes

1 year of experience in the construction industry preferred.

Good driving record.
HVAC Apprentice Jobs Colorado
---

TE Marshall
Basalt, CO

*via indeed

Website:  http://www.temarshall.com/
HVAC Apprentice
Qualifications:
Arrive on time, follow instructions.

Will train apprentice to be HVAC installer.
HVAC Schools › Apprentice Jobs Colorado

---
"Learning is experience. Everything else is just information."― Albert Einstein
Copyright © 2019 Bradley's hvac-schools.org
---