HVAC Apprentice Jobs Connecticut
(Entry Level)
Below you will find (3) three (entry level) HVAC Apprentice Jobs in Connecticut that were sourced as *noted.
This is an ongoing list of company's that offer entry level jobs in the HVAC industry from time to time.
These companies are growing their business at a fairly rapid rate and sometimes require little to NO HVAC experience.  Of course, experience is always preferred.
Having said that, their qualifications for employment may change in the future and "best practice" for getting hired is to be pro-active by learning as much as you can about the trade via HVAC online training classes or through brick & mortar HVAC Training Schools.
If your a complete newbie to the HVAC industry, HVAC for Beginners has information that will help you determine if this is the right field for you.
It is recommended that you explore other apprenticeship programs and learn more about becoming an HVAC Apprentice, before taking this earn-while-you-learn approach.
HVAC Apprentice Jobs Connecticut
---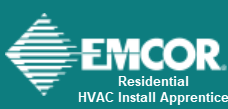 EMCOR
Norwalk, CT
*via CareerBuilder 
Website:  https://www.emcorgroup.com/

Residential HVAC Install Apprentice

General Purpose of Job:
Assist in the installation of Residential and Light Commercial Type HVAC duct systems and equipment to include the following components:
Packaged units ground and rooftop

Split system equipment

Central station air handlers

Exhaust fans, roof mounted, wall mounted and suspended

Various types of air distribution systems

Flexible, spiral and single wall pipe duct systems

Fire and smoke or combination dampers

Kitchen hoods and associated ductwork

Ceiling and wall grilles and diffusers
Primary Duties and Responsibilities:
Perform job related tasks as requested by the Installation Mechanic

Maintain a quality of workmanship and installation standards as set by the company

Must have the ability to work in outdoor weather and temperature extremes designated by company policy

Responsible to work in a safe manner and to abide by the company's safety policies to ensure the safety and protection to self, personnel, and all customer and company property

The ability to anticipate the upcoming steps of the installation so the installation becomes an efficient process

Maintain work area and keep clean and free of debris
HVAC Apprentice Jobs Connecticut
---
SolvIt Home Services
Plainville, CT
*via Indeed
Website:  https://solvitnow.com/
HVAC Service Technician Apprentice
If you have a strong desire to succeed and want a written planned career path...You want to increase your income...Are motivated and hard working...Then Solvit has the opportunity for you!

We Offer:

Company Vehicle

Cell Phone

Comprehensive Paid Training

Medical, Dental and Disability Plans

Paid Holidays

Paid Vacation

401k with Company Match

Competitive Pay Plan, Start Earning What You are Worth
Primary Responsibilities Include, but are not limited to:

Creates and exhibits a sense of ownership

Demonstrates a sense of urgency and decisiveness as appropriate

Ensures customer satisfaction

Handling customer service calls

Materials handling

Generating new and repeat business
Minimum Qualifications:
Organizational Skills

Problem Solving Skills

Extremely Dependable

Open to New Ideas and Methods

Self Starter

Team Player

Excellent Communication Skills

Exceptional Customer Service Skills.

Basic Computer Skills

Bilingual is a Plus
Trade license NOT required. On the Job experience is preferred.
HVAC Apprentice Jobs Connecticut
---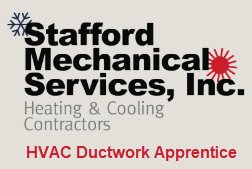 Stafford Mechanical Services
Stafford Springs, CT
*via BIGHIRED
Website:  https://staffordmechanical.com/
HVAC Ductwork Apprentice
We are a well established heating/cooling contractor company serving central and northeastern CT.  We are expanding and have an opening for an apprentice in our ductwork fabrication and installation shop. This is a great opportunity for a dependable person to enter the HVAC trade.
HVAC Schools › Apprentice Jobs Connecticut
---
"Learning is experience. Everything else is just information."― Albert Einstein
Copyright © 2019 Bradley's hvac-schools.org
---