HVAC Apprentice Jobs Florida
(Entry Level)
Below you will find (9) nine (entry level) HVAC Apprentice Jobs in Florida that were sourced as *noted.
This is an ongoing list of companies that offer entry level jobs in the HVAC industry from time to time.
These companies are growing their business at a fairly rapid rate and sometimes require little to NO HVAC experience.  Of course, experience is always preferred.
Having said that, their qualifications for employment may change in the future and "best practice" for getting hired is to be pro-active by learning as much as you can about the trade via HVAC online training classes or through brick & mortar HVAC Training Schools.
If your a complete newbie to the HVAC industry, HVAC for Beginners has information that will help you determine if this is the right field for you.
It is recommended that you explore other apprenticeship programs and learn more about becoming an HVAC Apprentice, before taking this earn-while-you-learn approach.
HVAC Apprentice Jobs Florida
---
CCS Mechanical, Inc.
Ocala, FL
*via ZipRecruiter
Website:  http://www.ccsmechanical.com/

HVAC Sheet Metal Apprentice

The Sheet Metal Apprentice is an introductory, training level for the sheet metal duct trade. Advancement is a possibility for candidates with little or no previous experience.  Will advance from the apprentice classification within one year - residential to light commercial. Also, you must:
Adhere to company policies

Have the ability to follow verbal and/or written instruction

Be able to read a tape measure

Work well as a team member

Identify different duct materials and components

Be able to utilize material and personnel lifts safely

Install duct hangers

Know proper lengths to cut slip and drive components

Assemble Snaplock and Pittsburg seams

Assemble TDF and slip/drive joints

Seal joints

Cut round holes in duct and install spin-ins

Perform related duties as assigned by supervisor
HVAC Apprentice Jobs Florida
---
Conditioned Air Company of Naples, LLC
Fort Myers, FL
*via LinkedIn
Website:  https://www.conditionedair.com/
Installer Apprentice (Helper)
Job Summary: 
Responsible for assisting the Lead Installer in installing entire residential HVAC system, zoning systems and other related installations within a Quality Control (QC) manner.  Learning from the lead Installer on how to properly install various components of entire new system (electronic control systems, pipe fitting, welding/brazing and mechanical layouts, duct work).
Tasks & Responsibilities:
Arrive on time and ready to begin work everyday.

Have a can do attitude to learn Quality Control (QC) installation processes, procedures and anticipate the needs of your Lead.

Always use Safety First (PAUSE) approach to all work performed.

Always use the proper safety clothing, tools and precautions before beginning any work assignments.

Must listen and take direction at all times from Lead Installer in order to install QC product, on time and on budget.

Do not argue with your Lead as Lead is ultimately responsible for QC install and safety on the job.

Maintain a clean and properly stocked installation truck at all times (Review job packet for materials with Lead prior to leaving office each morning).

Participate in morning meeting with Supervisor and Lead to review job order, supplies and highlight QC measures/tasks and safety.

Participate in all company and installation training meetings.

Utilize the Internet based technical training offered by the company, (Dave.net).

Develop QC diagnostic skills as well as apply QC techniques through various tasks assignments.

Own or work towards owning all of the necessary hand tools for typical helper of all air conditioning systems and components.

Complete all paperwork (work order, timesheet, PTO Requests) timely, accurately, and legibly (attention to detail).
HVAC Apprentice Jobs Florida
---
Home-Tech
Fort Myers, FL
*via Indeed
Website:  https://www.home-tech.com/
HVAC Repair Apprentice

Home-Tech is well known in Southwest Florida for the training provided to our new technicians via our S.T.A.R.T. program (Skills Through Applied Realistic Training).
Our Mentors and onsite training facility provide the latest in air conditioning repair education. You will be trained in a simple, no-nonsense way, combining on-the-job training, as well as classroom study.
Earn While You Learn.  When you join our S.T.A.R.T. program, you can "Earn While You Learn."  Learn a valuable trade and get real experience all while being paid to do so! Bypass expensive schooling and get right into a well-paying career today!
During the initial weeks, you will earn $12.00 an hour. After successfully completing the first few months of training, you will make $16.00 and hour. Beyond that, our average highly-skilled technicians earn $74,453.47.
Home-Tech is a local employee-owned repair company that services the following counties: Sarasota, Manatee, Charlotte, Lee, and Collier.
HVAC Apprentice Jobs Florida
---

Lennox International
West Palm Beach, FL
*via LinkedIn
Website:  https://www.lennoxinternational.com/
HVAC Apprentice Technician

This is an entry level opportunity for an individual looking to jump start their career.  NAS employees are our most important assets. They are productive, challenged, well trained, promoted, and well compensated. We offer a full package of benefits.
This technician performs field activities associated supporting the installation, maintaining and servicing heating, ventilating and air conditioning systems for commercial customers.
Duties include:
Assist with on-site preventative maintenance, routine repair and calibration after installation.

Uses technical abilities to maintain systems.

Works in a team-based environment to share information and workload while ensuring customer satisfaction.

Must work in a safe manner on a daily basis and ensure that all safety measures are taken at all times.

Performs other duties as assigned.

Flexibility to work overtime, on-call and weekends required.
Qualifications:

High School diploma or GED equivalent

HVAC Trade school graduate strongly preferred

achieving 3.5 GPA and excellent attendance
1+ years in mechanical support role,

some hands on HVAC experience preferred

EPA Certification: Type I and Type II or

Universal Preferred

NATE certification a plus

Valid Driver's License and acceptable driving record

Ability to climb ladders

Moderate lifting up to 90lbs

Complete pre-employment drug test and background check process

Technical aptitude to perform maintenance, service, and troubleshoot equipment

Excellent Customer Service Skills

Good Electrical and Mechanical Diagnostic Skills

Ability to complete repairs and required paperwork

Ability to work independently and self-schedule

Self-motivated to complete assigned tasks within time constraints

Driven to succeed and able to work with minimum supervision

Periodically \u2018on call' for service coverage

Local travel may required
HVAC Apprentice Jobs Florida
---
Peaden Air Conditioning, Plumbing & Electrical
Panama City, FL
*via LinkedIn
Website:  https://www.peaden.com/
HVAC Apprentice
Job Description:

Join the Peaden Family Today!  Peaden Pro Academy offers an accelerated learning program for individuals interested in learning the HVAC trade.
Our accelerated program offers 8 weeks of technical training in the classroom and in the field. Get paid to train! The training rate starts at $14.00/hr and the rate will increase after graduation
Do you have what it takes to become a Peaden Pro?
You are the right fit if you are:
A quick learner

Have an energetic personality

Enjoy talking to customers

Enjoy solving problems

Mechanically minded

Empathetic
This is an excellent opportunity to learn the HVAC service trade.

Requirements:

Valid Florida Driver's License

Good Driving Record

High School Diploma or Equivalent
HVAC Apprentice Jobs Florida
---
Polar Bear Heating and Air
Daytona Beach, FL
*via ZipRecruiter
Website:  http://www.acpolarbear.com/

HVAC Helper-Apprentice

I'm looking to hire a helper/ apprentice with no drug history and no criminal history. Needs to be clean cut, presentable, and ready to learn a trade.
A couple of years of construction experience would be helpful but be prepared to work in attics, under homes, and in peoples' houses. A positive, upbeat personality, hard worker, and willingness to learn are a must.
HVAC Apprentice Jobs Florida
---
PROTOCOOL Cooling Solutions
Sunrise, FL
*via LinkedIn
Website:  https://protocoolac.com/
HVAC Installation Apprentice
If you're a hard-working professional with an inner drive to improve yourself and help others then you might be a fit for us…

Along with the job-specific qualifications (below) here are the qualities we're looking for in our perfect candidate:

You work hard

You love working with a team

You're tech savvy – you can diagnose a problem and make recommendations to fix it

You love to serve others

You love to challenge yourself and

you want to learn, and even be cross-trained

You understand the importance of serving others (your team members and our customers)
You understand and are willing to follow our Core Values:
Safety First For Our Family and Theirs – Think Twice, Act Once

Delivering WOW Through Service – Exceeding Every Customer's Expectations

Demonstrate Highest Level of Integrity – Doing the Right Thing Even When No One is Watching

Great Place to Work – All for One and One for All
If ALL Of This Describes You, Now Is Your Time!
As an equal opportunity employer, candidates will receive consideration without discrimination against race, creed, color, sex, national origin, handicap status or veteran status.
HVAC Apprentice Jobs Florida
---
Symbiont Service Corp
Englewood, FL
*via LinkedIn
Website:  https://symbiontservice.com/

Pool Heating/Air Conditioning Installation Apprentice
Profitably assist in the installation of pool heating and air conditioning systems, properly maintain your assigned vehicle, attend company required meetings, take continuing education classes, assist in other departments as needed, use available communication systems with your immediate supervisor.
Will train the right candidate, and provide you with an exceptional benefits package (after 90 days)
Please apply in person, or complete your application:
http://symbiontservice.com/about/employment/ and submit it on our website.  Thank you!
HVAC Apprentice Jobs Florida
---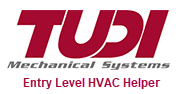 TUDI Mechanical Systems
Tampa, FL
*via LinkedIn
Website:  https://www.tudi.com/

Entry Level HVAC Helper
We are excited to announce openings as a Entry Level HVAC Helper in our Service Division.

Responsibilities:
Assist senior technicians with performing scheduled maintenance on heating and air conditioning equipment for our customers.

Assist with the installation and repair of commercial heating and air conditioning equipment.

Must be able to lift up to 50lbs in the performance of duties.
Qualifications:
Currently enrolled or soon to be graduating in a HVAC/Refrigeration program.

Valid Driver's License.

Must have flexible availability
---
HVAC Schools › Apprentice Jobs Florida
---
"Learning is experience. Everything else is just information."― Albert Einstein
Copyright © 2019 Bradley's hvac-schools.org
---