HVAC Apprentice Jobs Indiana
(Entry Level)
Below you will find (4) four (entry level) HVAC Apprentice Jobs in Indiana that were sourced as *noted.
This is an ongoing list of companies that offer entry level jobs in the HVAC industry from time to time.
These companies are growing their business at a fairly rapid rate and sometimes require little to NO HVAC experience.  Of course, experience is always preferred.
Having said that, their qualifications for employment may change in the future and "best practice" for getting hired is to be pro-active by learning as much as you can about the trade via HVAC online training classes or through brick & mortar HVAC Training Schools.
If your a complete newbie to the HVAC industry, HVAC for Beginners has information that will help you determine if this is the right field for you.
It is recommended that you explore other apprenticeship programs and learn more about becoming an HVAC Apprentice, before taking this earn-while-you-learn approach.
HVAC Apprentice Jobs Indiana
---

Aire Serv of Northeast Indiana
Fort Wayne, IN
*via Glassdoor 
Website:  https://www.aireserv.com/
HVAC Apprentice
Looking for motivated people who are eager to learn how to install ductwork and equipment for residential and commercial projects.
HVAC Apprentice Jobs Indiana
---

Gibson's Heating & Plumbing, Inc.
Waterloo, IN
*via Indeed 
Website:  https://www.gibsonsheating.com/
Apprentice - Plumbing or HVAC Techncian

You're the best and you want to join a team that appreciates you, where you can create your own opportunities.
Who We Are:
We keep on growing because we only hire the best, and our customers love us for it. We've been serving the greater Northeast Indiana, Northwest Ohio, and Southeast Michigan for over 34 years.
You've probably seen our trucks and our ads. What you don't know is what it's like to be a part of a team like this. How much you feel appreciated when you don't cut corners. How much we inspire ongoing training and education. How it feels to have customers rave about you and demand that you're the only technician that works in their home. How much you can earn when you truly are the best.
People often come to us looking for a job. They stay with us because they find a fulfilling career, room to grow, and opportunities to excel.

Why We Need You!

Because we offer top of the line products and services, we need top of the line people who genuinely care about the customer and look at this opportunity as not just a job but a career.
The Big Task
You will constantly be learning new things to gain knowledge in the HVAC and/or Plumbing trades. This could be riding along with our HVAC Service Technicians, HVAC Equipment Installers, or Plumbing Service Technicians.

Key Sub Tasks

Maintain communication with technicians, installers, dispatch, your manager, and parts.

Help keep lead Technician or Installer truck inventory up to date.

Properly complete paperwork.

Maintain a clean and professional appearance.

Have and maintain a clean driving record.

Participate in training allowing you to grow and develop as a professional.

Have or be willing to get the proper certifications. We can help you with this.
Desired Skills and Experience

If you can achieve the above and you find it fun and challenging - you have just the right amount.
What We Offer
Our top performers are among the highest paid in the area. You'll have unlimited earning potential.

Medical Insurance -- we pay up to 100% of the employee's insurance premiums!

Company paid Life Insurance

Short-Term Disability

New technology, including iPhone

State of the art tools, parts and supplies.

401k Plan with a company match.

A family. This is last on the list because it's most important. We care about our team, and expect you to bring that same caring when you join. We do a lot more than just work together. You'll come to love our company outings, and you'll build life-long friendships at Gibson's Heating & Plumbing.
If you want to be part of something bigger than just a job – make this career move and find exactly what you're looking for. You will work in a place where you will be appreciated by your team and customers, and where your work has a direct effect on the success of the company.
If this sounds like you, spend a little time learning about Gibson's Heating & Plumbing by visiting www.gibsonsheating.com. When you're ready, please apply!
HVAC Apprentice Jobs Indiana
---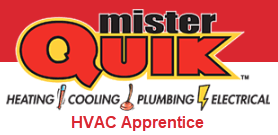 Mister Quik Home Services
Indianapolis, IN
*via Glassdoor
Website:  https://mrquikhomeservices.com/
HVAC Apprentice
Job Summary:

Mister Quik Home Services is looking for entry-level individuals to join our team!  We understand that learning a skilled trade has to start somewhere.
We are looking for the right individuals to invest in by providing top notch training in the HVAC service area. 
Through this apprenticeship, our technicians will be working in the residential service industry and will spend their day meeting with homeowners and performing HVAC tasks that are needed in their home.
We are looking for team members that:

Have a great attitude

Are passionate about serving our customers

Are looking for a career and not a job!
Qualifications and Skills:
A willingness and desire to learn

Ability to work with your hands and in a mechanical setting

Ability to focus and put forth effort towards ongoing training
Benefits:

Year Round Work (no layoffs!)

Great pay and a take home vehicle

Health Insurance

Paid Vacation and Holidays

Training programs to increase skills needed to best perform the job
HVAC Apprentice Jobs Indiana
---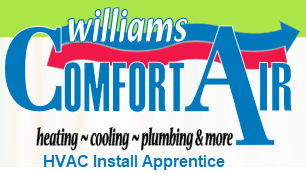 Williams Comfort Air
Carmel, IN
*via LinkedIn
Website:  https://williamscomfortair.com/
HVAC Install Apprentice
Since 1966, Williams Comfort Air has been serving Indianapolis residents and the surrounding areas with unmatched service quality.We are committed to our clients and the community, and we want to help keep our environment safe for all generations.
We offer year round work, paid training, continuing education, and we re the largest Carrier Factory Authorized Dealer in the State of Indiana. Your potential for growth is unlimited here at Williams Comfort Air, come join our family!
Role Summary:
The HVAC Install Apprentice is responsible for accomplishing the highest quality HVAC system and product installations together with the HVAC Lead Installer.
Installation assignments will be completed on time, under budget, and safely. The HVAC Install Apprentice works diligently to keep the project running smoothly and profitably with a positive attitude, desire to exceed client expectations and desire to learn the trade.

Main Responsibilities:

Follow Installation procedures and processes.

Properly tear down and recycle all equipment and materials from the previous work day s job(s).

Follow direction of Lead Installer in the client's home.

Available to arrive early and/or stay late when workload requires in varying weather conditions and depending on the season (mandatory Saturdays during season).

Arrive at the assignment on time every day to receive direction and prepare truck and material.
Minimum Job Qualifications:

Maintain a valid driver s license with clean driving record

Working toward EPA Certification (to be accomplished within 3 months of employment)

Stand, bend, stoop, kneel, crouch, lift, and walk at various intervals

Ability to lift loads up to 75 pounds on a regular basis using safe lifting procedures.
We offer:
Company Supplied Uniforms

Medical/Dental/Vision Insurance

Paid Vacation and Holidays

401K Retirement Plan

Family Atmosphere Which Truly Cares About Its Team and Customers
---
HVAC Schools › Apprentice Jobs Indiana
---
"Learning is experience. Everything else is just information."― Albert Einstein
Copyright © 2019 Bradley's hvac-schools.org
---