HVAC Apprentice Jobs Kansas
(Entry Level)
Below you will find (3) three (entry level) HVAC Apprentice Jobs in Kansas that were sourced as *noted.
This is an ongoing list of companies that offer entry level jobs in the HVAC industry from time to time.
These companies are growing their business at a fairly rapid rate and sometimes require little to NO HVAC experience.  Of course, experience is always preferred.
Having said that, their qualifications for employment may change in the future and "best practice" for getting hired is to be pro-active by learning as much as you can about the trade via HVAC online training classes or through brick & mortar HVAC Training Schools.
If your a complete newbie to the HVAC industry, HVAC for Beginners has information that will help you determine if this is the right field for you.
It is recommended that you explore other apprenticeship programs and learn more about becoming an HVAC Apprentice, before taking this earn-while-you-learn approach.
---
HVAC Apprentice Jobs Kansas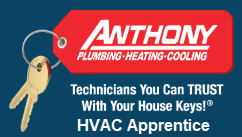 Anthony Plumbing, Heating and Cooling
Shawnee, KS
*via Indeed
Website:  https://www.anthonyphc.com/
HVAC Apprentice - "PAID Apprenticeship"
Do you have exceptional communication & interpersonal skills with a strong set of ethical values?

Would you consider yourself mechanically inclined?

Do you want an exciting career, not just another job?

GREAT!

Then, we'd like to pay you to learn the HVAC trade.

Intrigued?
Our "Tech Builder" Training Program is for entry-level candidates, lasting only 90 days!
Upon successful graduation, trainees will become full-fledged HVAC Service or Installation Technicians from Anthony PHC University.
Due to our continuous company growth, we plan to hold a few new training classes every year.
We welcome you to apply and appreciate your interest.
Though, please keep in mind that we have limited seats available, so it can be competitive and involve some difficult decisions for us to select those best-suited for our culture and a successful career in residential HVAC Service or Installation.
We are proud of our past and even more excited about our future.
Anthony PHC was established in 1951 and continues trend of growth and stability.
Our customers love us and keep recommending our services, so we're trying to keep up with the constant demand.
Help us help our customers continue to feel comfortable in their own homes!
SUMMARY DESCRIPTION: As a Trainee, you'll be eagerly participating in & absorbing knowledge from a combination of classroom/lab-based education & field-based training, riding along with real live Anthony Plumbing, Heating & Cooling Service Technicians.
Upon graduation from Anthony PHC University, Trainees will become HVAC Technicians, performing this service for residential customers.
We offer additional career paths to those who are successful and dedicated in their careers.
MINIMUM QUALIFICATIONS:
Excellent communication & interpersonal skills

Basic mechanical or electrical skills

High School Diploma or GED

Must pass pre-employment drug test

Must pass extensive criminal background check

Must have an insurable driving record & valid driver license

Able to meet Physical Demands and tolerate Work Environment

Must be able to fluently speak, read, & write in the English language
PREFERRED QUALIFICATIONS:
Anthony Plumbing, Heating & Cooling is proud to offer: Competitive Performance-based Pay - Up to $50K your first year after Training!
---
HVAC Apprentice Jobs Kansas
Mission Plumbing Heating & Cooling
Shawnee, KS
*via Indeed
Website:  http://missionphc.com/
HVAC/Plumber Apprentice Vacancy
If you are in HVAC/PLUMBING school or just completed your certification, we want to talk to you!
Applicants must have a neat and professional appearance, transportation, a good driving record and clean background.
We offer top wages, medical insurance, uniforms, cell phone, and a professional pleasant fun working environment.
---
HVAC Apprentice Jobs Kansas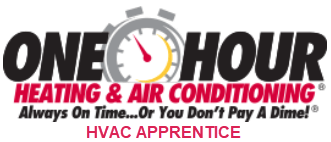 One Hour Heating and Air Conditioning
Olathe, KS
*via Indeed
Website:  One Hour Heating and Air Conditioning - Kansas

HVAC Apprentice
Positive, upbeat, team-oriented working environment that has a huge opportunity for career growth.

Duties:
Assisting

our technicians and installers in the field.

Delivering equipment to job sites.

Our technicians work on residential furnaces and air conditioners in Johnson County, KS.

They perform routine maintenance, troubleshoot and repair malfunctioning units, and install new equipment (including indoor air quality products such as humidifiers and air cleaners.)Qualifications Needed: *Exceptional communication skills, good problem solving skills, creativity, and drive.
All training/education is provided at no expense to the new hire.
NO EXPERIENCE NECESSARY.
Job Type:
Full-timeSalary: $12.00 /hour

Valid driver's license (Required)

Work authorization - United States (Required)
---
HVAC Schools › Apprentice Jobs Kansas
---
"Learning is experience. Everything else is just information."― Albert Einstein
Copyright © 2019 Bradley's hvac-schools.org
---