HVAC Apprentice Jobs Louisiana
(Entry Level)
Below you will find (3) three (entry level) HVAC Apprentice Jobs in Louisiana that were sourced as *noted.
This is an ongoing list of companies that offer entry level jobs in the HVAC industry from time to time.
These companies are growing their business at a fairly rapid rate and sometimes require little to NO HVAC experience.  Of course, experience is always preferred.
Having said that, their qualifications for employment may change in the future and "best practice" for getting hired is to be pro-active by learning as much as you can about the trade via HVAC online training classes or through brick & mortar HVAC Training Schools.
If your a complete newbie to the HVAC industry, HVAC for Beginners has information that will help you determine if this is the right field for you.
It is recommended that you explore other apprenticeship programs and learn more about becoming an HVAC Apprentice, before taking this earn-while-you-learn approach.
---
HVAC Apprentice Jobs Louisiana
Albritton Service Company
Ruston, LA
*via Indeed 
Website:  https://www.albrittonservice.com/
HVAC Service Technician Apprentice

Albritton Service Company is one of North Louisiana's leading electrical and HVAC contractors doing business since 1982. We pride ourselves in offering exceptional customer service and strive to exceed the customers expectations. We are seeking highly motivated individuals to join our team for a rewarding career not just a job.
We are looking for highly motivated individuals for our Technician promotion program. The ideal candidate will have an excellent attitude, strong desire to learn, excellent communication and people skills and be a team player.
Job Description:
Complete training to become a HVAC Service Technician and all that entails.
Job responsibilities:
Maintain a clean, neat and professional appearance.

Have and maintain professional personal tools.
Job requirements:
Ability and desire to learn

Outstanding attitude

Excellent customer service skills

Neat and professional appearance

Have and maintain professional personal tools
Benefits Offered:
Bonus program (profit sharing)

401(k) with generous company match

Paid Vacation

Paid Holidays

Health Insurance

Dental Insurance

Credit Union

Life Insurance

AFLAC

Uniforms
---
HVAC Apprentice Jobs Louisiana
Lennox International
New Orleans, LA
*via Live Career Jobs
Website:  https://www.lennoxinternational.com/
HVAC Apprentice Technician
Company Overview:
We have 100+ offices throughout the continental United States and are still growing and expanding. In the next 5 years we will double the number of Branch Offices and significantly increase annual revenue. In order to do that we need good people like you, who want to grow and learn.
We consistently offer the best of both to all of our employees. We are an equal opportunity employer (EEOC).
Benefits:
Competitive Pay 

Weekly Payroll 

Company Van

Phone

PPE and uniforms provided 

Overtime available to increase earnings potential 

Ongoing Training and Development 

Medical, Dental, Disability & Insurance coverage

401k Plan Match Company 

Paid vacation, personal days & holidays 

Referral and rewards program 
Job Description:
This is an entry level opportunity for that individual looking to jump start their career. NAS employees are our most important assets. They are productive, challenged, well trained, promoted, and well compensated.
We offer a full package of benefits. This technician performs field activities associated supporting the installation, maintaining and servicing heating, ventilating and air conditioning systems for commercial customers.
Duties include:
Assist

with on-site preventative maintenance, routine repair and calibration after installation. 

Uses technical abilities to maintain systems. 

Works in a team-based environment to share information and workload while ensuring customer satisfaction. 

Must work in a safe manner on a daily basis and ensure that all safety measures are taken at all times. 

Performs other duties as assigned. 

Flexibility to work overtime, on-call and weekends required.
Qualifications:
High School diploma or GED equivalent 

HVAC Trade school graduate strongly preferred

achieving 3.5 GPA and excellent attendance 

1+ years in mechanical support role, some hands on HVAC experience preferred 

EPA Certification- Type I & Type II or Universal Preferred 

NATE certification a plus 

Valid Driver's License and acceptable driving record 

Ability to climb ladders 

Moderate lifting (up to 90 pounds) 

Complete pre-employment drug test and background check process 

Technical aptitude to perform maintenance, service, and troubleshoot equipment 

Excellent Customer Service Skills 

Good Electrical and Mechanical Diagnostic Skills 

Ability to complete repairs and required paperwork 

Ability to work independently and self-schedule 

Self-motivated to complete assigned tasks within time constraints 

Driven to succeed and able to work with minimum supervision

Periodically 'on call' for service coverage Local travel may required
---
HVAC Apprentice Jobs Louisiana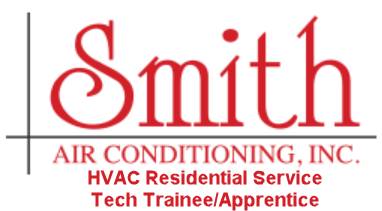 Smith Air Conditioning Inc.
Ville Platte, LA
*via Linkedin
Website:  https://smithac.com/
HVAC Residential Service Tech Trainee/Apprentice

Have you fallen into a state of monotony and dread at your current job? Do you feel like the last living branch on a dying tree?
Smith Air Conditioning is looking for a HVAC Technician Trainee/Apprentice to bring their skills and energy to our business where it will be appreciated and rewarded.
We have an immediate opening for those who would like to join a healthy and prosperous team of Champions. Don't let yourself fall into the confusing forest of a dead-end job. Move into an employment situation that will allow you to show your true, bold colors.
Position Purpose (Summary)
This is a 120-day training position, after which the employee may be offered the opportunity to apply for a HVAC Service or Maintenance technician position.
There is no promise that a position shall be available or that the trainee will be offered employment after the 120-day training period. At the company's discretion, it may alter the training period as it sees fit.
Be willing participate following, helping, and assisting his assigned mentor learning and preparing for becoming a tech.

Perform other tasks as requested, including running parts, maintenance, janitorial, and clerical.

Eventually provide routine maintenance, cleaning, and inspection of warm air furnaces, air conditioners, duct distribution systems, water heaters, and related piping and electrical.

Assist consumers by providing information on options for improved operations of the HVAC equipment.

Can identify and report all issues that arise that would keep the equipment from functioning properly.

Communicate to the consumer on the proper operation and owner's maintenance of the installed equipment. Answer related questions as to operation, features, and functions to the homeowner.

Perform required documentation for each call, recording recommendations, repairs, accurate readings and observations. Have client sign necessary paper work and collect payments as directed.
Responsibilities/Duties/Functions/Tasks
Customer service orientation.

Must have a good working knowledge of our products and services being offered. This will require additional study and training both on and off site.

Continuously improve knowledge of construction in general, and how Smith Air Conditioning operates to benefit the customer.

Establish goals and objectives as they relate to the position, along with a plan of action to attain or exceed set goals.

Regularly review and monitor progress against goals, and seek assistance as needed.

Communicate effectively with associates, superiors, vendors and customers.

Ask and obtain customer referral's and web recommendations

Possess superior interpersonal skills.

Must be able to work under time and budgetary constraints and pressures.

Efficiently manage his/her time and schedules.

Be computer literate to the extent necessary to fulfill this function. Knowledge of Excel and Word is required. Should also be very familiar with the use of smart phones, text messaging, and email.

Must be capable of understanding client needs, and favorably influence their decision.

Constantly be learning through training from suppliers, trade shows, seminars, independent study, and other employees.

Clean, neat, professional appearance.

Work and drive safely and be able to recognize and avoid dangerous situations.

Other duties as assigned
---
HVAC Schools › Apprentice Jobs Louisiana
---
"Learning is experience. Everything else is just information."― Albert Einstein
Copyright © 2019 Bradley's hvac-schools.org
---