Bradley's HVAC Schools



South Carolina Reviews
Below you will find (14) fourteen of the best HVAC Schools in South Carolina.  Each of these schools have an informational video, pricing, a link to their HVAC program and reviews if any were found.
No matter which school you ultimately decide on, you'll be investing time and money in exchange for their HVAC training program.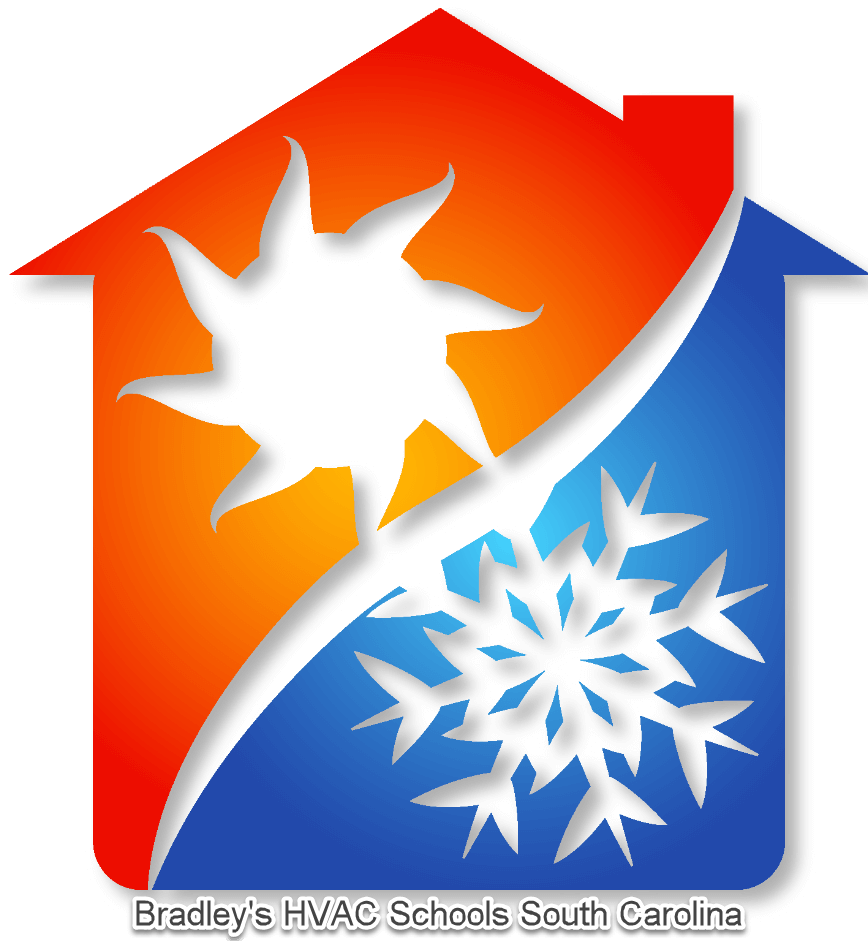 Therefore, we suggest taking a moment to educate yourself about each school so that you can make an informed decision and receive the biggest educational bang for your buck!

We recommend starting with the HVAC training schools page first, as it will help guide you through this important decision making process.

Bradley's HVAC Schools

South Carolina Reviews
---
Aiken Technical College 
2276 Jefferson Davis Hwy
Graniteville, SC 29829 
Phone:

  803-593-9231    


Website:  Air Conditioning and Refrigeration  
Pricing:

  (call for current prices)


Advanced Air Conditioning/Refrigeration Certificate - $4,118.00  
School Training:

  16 Months


Heating, Ventilation, Air Conditioning and Refrigeration - $7,048.00
School Training:

  16 Months


Occupational Studies HVAC - $5,250.00
School Training:

  18 Months

  


Niche Reviews
Yelp Reviews


Facebook Reviews




---
Central Carolina Technical College 
506 N. Guignard Drive
Sumter, SC 29150 
Phone:

  (803) 778-1961    


Website:  Air Conditioning and Heating 
Pricing:

  (call for current prices) 


Basic Air Conditioning and Heating Certificate - $8,551.00 
School Training:

  12 Months


Advanced Air Conditioning and Heating Certificate - $4,049.00
School Training:

  12 Months   

 


Facebook Reviews


Niche Reviews




---
Florence-Darlington Technical College 
2715 W. Lucas Street
Florence, SC 29501-0548 
Phone:  800.228.5745    
Website:  HVAC Certificate Program
Pricing:  $4,790.00  (call for current prices)  
School Training:  8 Months   
Bradley's HVAC Schools


South Carolina Reviews
---
Fortis College 
246 Stoneridge Drive, Suite 101 
Columbia, SC 29210 
Phone:  (803) 678-4800    
Website:  HVAC Program
Pricing:  $18,633.00  (call for current prices)  
School Training:  48 Weeks   
---
Greenville Technical College
Barton Campus
506 S. Pleasantburg Drive
Greenville, SC 29607
Phone:  (864) 250-8000    
Website:  HVACR Program
Pricing:  (call for current prices)
Air Conditioning/Refrigeration Technician Program - $8,165.00  
School Training:  12 Months
Air Conditioning/Refrigeration Technology Program - $9,731.00
School Training:  12 Months     
---
Horry Georgetown Technical College (2 locations) 
2050 Highway 501 East
Conway, South Carolina 29526  
Phone:  (843) 347-3186  
4003 South Fraser Street 
Georgetown, SC 29440 
Phone:  (843) 546-8406  
Website:  HVAC Service Technician
Pricing:  (call for current prices) 
Residential HVAC - $6,778.00
School Training:  8 Months
HVAC Commercial Refrigeration & Air Program - $2,420.00 
School Training:  4 Months 
Bradley's HVAC Schools


South Carolina Reviews
---
Midlands Technical College 
316 South Beltline Boulevard
Columbia, SC 29205
Phone:  803.738.8324     
Website:  HVAC Technology
Pricing:  $14,400.00  (call for current prices)  
School Training:  Program Length Not Found     
---
Piedmont Technical College
620 N. Emerald Road
Greenwood, SC 29646 
Phone:  (864) 941-8324    
Website:  Heating, Ventilation, and Air Conditioning
Pricing:  (call for current prices)
Undergraduate certificate in Heating Fundamentals - $5,838.00  
School Training:  1 Year
Undergraduate certificate in HVACR Installers - $5,160.00
School Training:  1 Year
Undergraduate certificate in Refrigeration Applications - $7,894.00
School Training:  1 Year     
---
Spartanburg Community College
107 Community College Drive
Spartanburg, SC 29303
Phone:  (864) 592-4600    
Website:  HVAC and Refrigeration
Pricing:  (call for current prices)
Certificate in Heating, Ventilation, AC & Refrigeration Technology - $7,735.00  
School Training:  42 Weeks   
Bradley's HVAC Schools


South Carolina Reviews
---
Technical College of the Lowcountry 
921 Ribaut Road
Beaufort, SC 29902 
Phone:  (843) 525-8207    
Website:  HVAC
Pricing:  (call for current prices)
Heat Pump Certificate:  $5,780.00  
School Training:  Program Length Not Found
Designing HVAC Systems Certificate:  $3,400.00
School Training:  Program Length Not Found 
Commercial Refrigeration Certificate:  $5,270.00
School Training:  Program Length Not Found   
---
Tri County Technical College 
7900 US-76
Pendleton, SC 29670 
Phone:  1-866-269-5677    
Website:  Heating, Ventilation, and Air Conditioning   
Pricing:  (call for current prices)
HVAC Apprentice Certificate - $4,711.00  
School Training:  30 Weeks
HVAC Installer Certificate - $6,415.00
School Training:  45 Weeks    
---
Trident Technical College
7000 Rivers Ave
North Charleston, SC 29406 
Phone:  877.349.7184    
Website:  Air Conditioning and Refrigeration 
Pricing:  (call for current prices)
Air Conditioning/Refrigeration Mechanics Certificate - $5,785.00  
School Training:  12 Months
Certificate in Air Conditioning/Refrigeration Mechanics Certificate - $5,028.00
School Training:  16 Months   
Bradley's HVAC Schools


South Carolina Reviews
---
Williamsburg Technical College 
601 Martin Luther King Jr. Avenue
Kingstree, SC 29556 
Phone:  843.355.4110    
Website:  HVACR
Pricing:  $7,284.00  (call for current prices)  
School Training:  12 Months    
---
York Technical College 
452 S. Anderson Road
Rockhill, SC 29730 
Phone:  (803) 327-8000     
Website:  HVAC Trade Program  
Pricing:  (call for current prices)
Air Conditioning Refrigeration Mechanics Program - $6,605.00   
School Training:  1 Year   
HVAC Schools › HVAC Schools South Carolina
---
"Learning is experience. Everything else is just information."― Albert Einstein
Copyright © 2019 Bradley's hvac-schools.org
---